It's easy running through the shadows chasing light. It's harder to capture the light and make it something meaningful. Via a hole, not much bigger than a pin prick, a world of wonders shines in and is captured by nothing more than a mere piece of note paper. But, that note paper witnessed the scene outside in reverse form. A dreamlike inverted projection of the Fabriikki parking lot.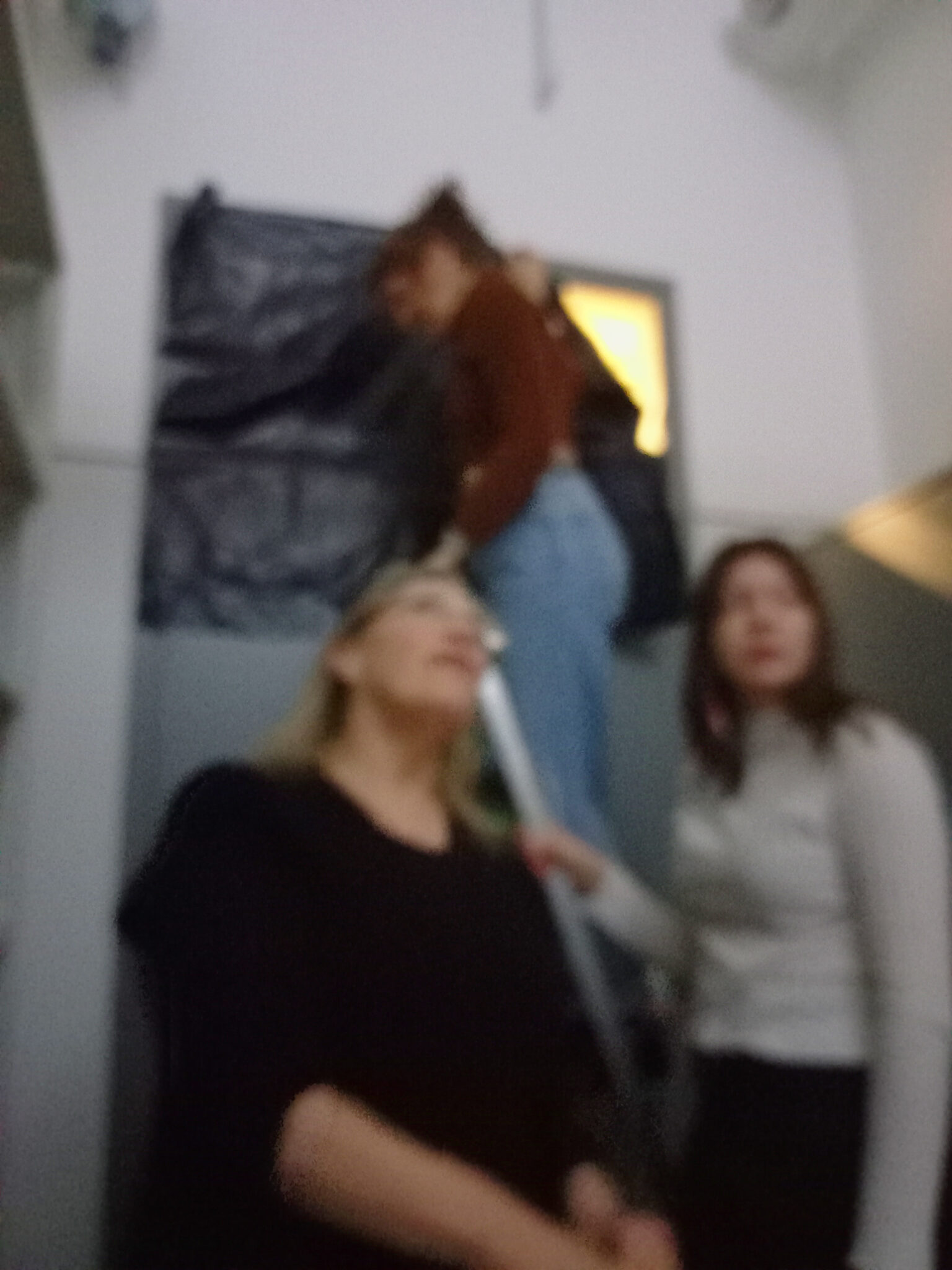 I refer here to the camera obscura visiting artist-in-residence, Anne Scott Wilson, from the Deakin Motion Lab, Deakin University Melbourne, Australia, and a bunch of talented and curious University of Vaasa, Communication Studies students (School of Marketing and Communication) built in one of the derelict offices of Fabriikki. The students engaged with Anne for one intensive week in a "Pop-Up Artist-in-Residence" course that saw the students transform offices into ancient cameras and studios, become sense witnesses (becoming sensitised to the environment through multiple senses), make the everyday strange through documenting the weird and wonderful in their near surrounds, producing delicate cyanotypes, 3D prints (thanks to Miguel Zamora Corderro at the School of Technology and Innovations) and more.
The point is that students had the opportunity to engage in learning and delve into the building blocks of our daily communication practices, while working in synergy with an exciting international artist. For Wilson, the activities were about sharing the experience and inner workings of her artistic and creative explorations through technology and the intrinsic layers of the body and being. Technology is a part of us, and we are, in thought and practice, technology. The very advancement of information technology into the realms of artificial intelligence (AI) and virtual reality (VR) testifies the in-built fascination humans have with making dreams come true.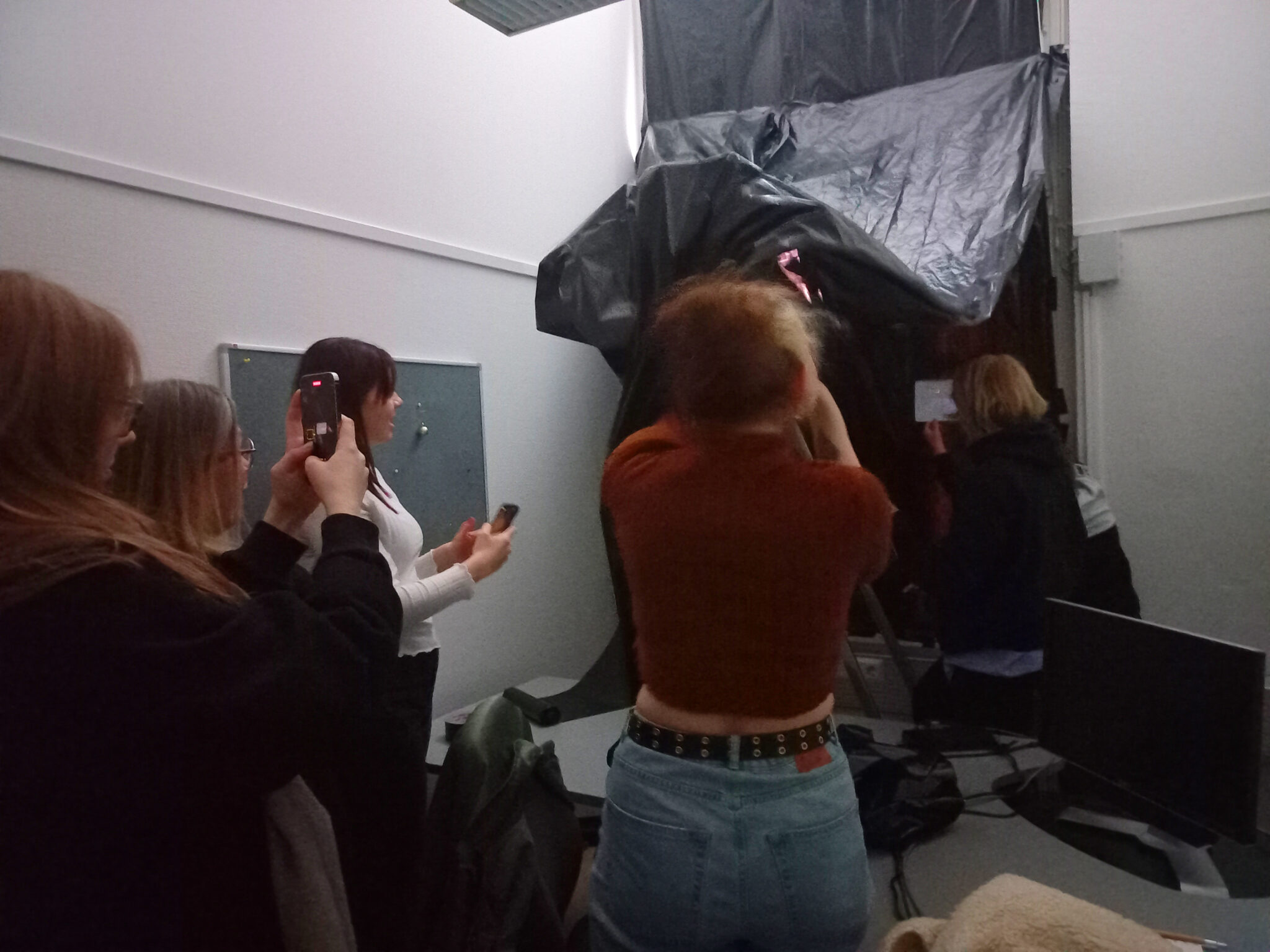 Wilson's previous life was as a professional dancer. She travelled around the world using her body as an instrument to convey the vision of others. The experiences of movement and synchrony, the sensations and wordless meaning-making that occurred through the body, are matters that simply cannot be expressed verbally. Art is a vehicle through which the tacit and implicit (knowledge that cannot be put into natural language) are expressed through representation, which once more, have no direct words to describe. For Communication Studies students this is a lesson not simply in creative thinking, problem-solving and inner expression, but a hands-on experience in which they learned what can be conveyed through traditional communicational principles, and what should be left for first hand aesthetic experience.
Wilson's visit has left a mark just as much in the students and Communication Studies, as it has, the VME Interaction Design Environment her host, a space in which our team has long yearned to dive into the multidisciplinary and experiential exploration of elements – technology, knowledge (from engineering to business), and the community – to start finding pathways to disruption and paradigm shifts that will set the University of Vaasa truly a part from the rest. We (VME, Communication Studies and the University of Vaasa) are extremely grateful to the OpenInnoTrain project and especially for the funding received from the European Union's Horizon 2020 research and innovation programme, under the Marie Skłowdowska-Curie grant agreement no. 823971 that enabled Rebekah Rousi (by guidance and seeming chance) to connect with Anne Scott Wilson during her Secondment at RMIT, Melbourne Australia.
We would like to thank the funders that made this possible along the way: