VME is truly gaining speed. Every year sees more and more exciting events, collaborations, and opportunities to get into the core of what makes human technology interaction tick. This year has been no exception. In fact, this past year has marked a monumental point in the University of Vaasa's history. It's been the point at which Uwasa has established its own human technology interaction research community – VME4CHI.
VME4CHI is a multidisciplinary community that is dedicated to examining questions related to all areas of human interaction with technology. The community meets every other month and comprises students of all levels, teachers, and researchers with a passion for studying all areas touching upon human-technology interaction such as design, communication, marketing, management, and information systems to name just a few. And we have been delighted to see that the community has been found and embraced by our scholars and students, and the lineup for our first was a perfect mixture of varying topics.
VME4CHI kicked off with their first seminar in December, at which graduating Masters student, Hannu Honkanen, presented his thesis, Guide for the visual design of robots operating in learning environments (Ohjeistus opetusympäristössä toimivan robotin ulkonäön suunnitteluun). Students and staff gathered to listen to the results of Honkanen's thesis that indicated details of scale, sound, and movement. 
The next VME4CHI featured Laura Havinen, Juho-Pekka Mäkipää and Teemu Mäenpää who presented their on-going work on a literature review of how self-determination theory is used in designing learning technologies. Tapping to a current theory in HCI research, they are aiming to find out what is the current status of the theory usage in the cross-section of education and technology design.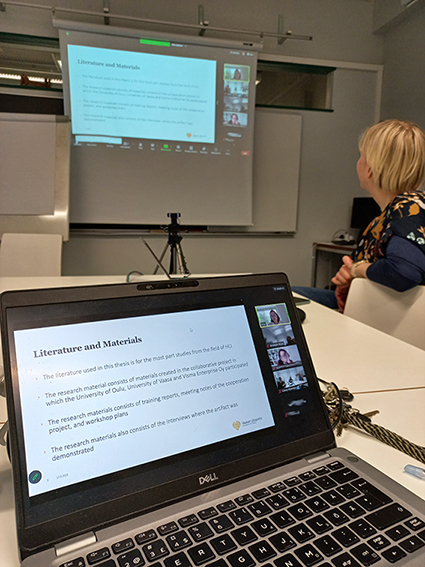 Pia Karasjärvi gave the community an account of her work with eye tracking, and particularly the usage of iMotions software. Karasjärvi is currently undertaking her PhD on the topic of disability justice in the design of digital services for people on the Autism spectrum. Karasjärvi has utilised eye tracking to understand points of interest and gaze patterns of individuals on the spectrum when utilising and evaluating designs of digital services intended to target them. 
Elisa Ruuti presented her Masters research on arranging participatory UX design workshops with teenagers. In her study Ruuti created a set of guidelines to engage teenagers in the co-design process. Ruuti's work was a follow-up for a project that saw VME collaborate with Visma Enterprise, INTERACT research group from University of Oulu and Laihia High School to co-re-design the infamous Wilma with actual high school users. One instantiation of the project, a University of Vaasa course collaboration, was awarded Digihanke of the Year by the Ostrobothnian Chamber of Commerce.
Our tyres are small, but we're gaining traction. Next academic year will see many more VME4CHI events, publications, and initiatives to more human technology interaction into the future in a sustainable, inclusive, and enriching way. So stay tuned and join us when VME4CHI continues in September 2023!
All the best and have an amazing summer season!
Rebekah Rousi and Laura Havinen, and the rest if the VME Crew
PS: Fostering communities is at the heart of VME – our doors are always open for VME4PLAY, VME4XR and others!