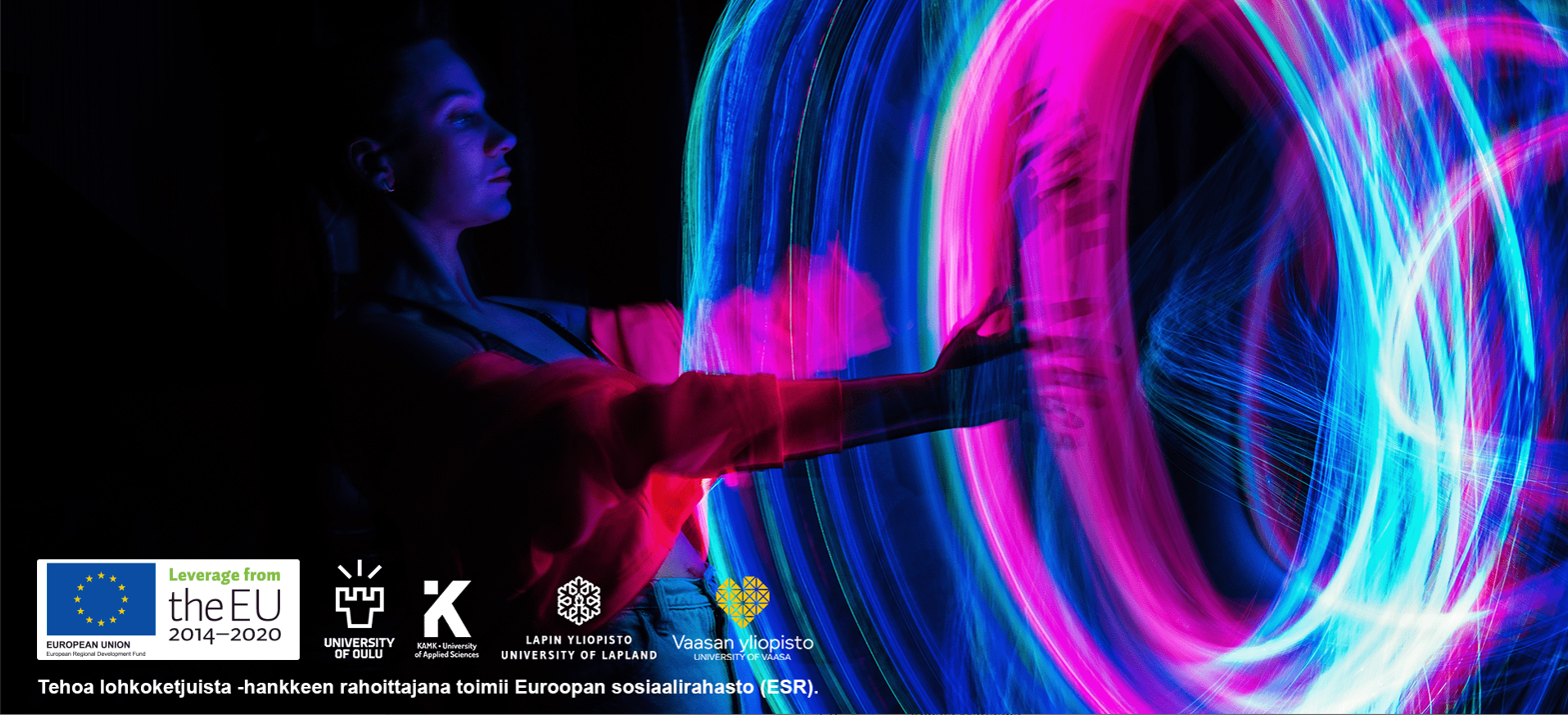 Most well-known use cases of blockchain technology are cryptocurrencies. Nevertheless, the foundational technology enabling the cryptocurrencies, provides excellent opportunities way beyond. The most important feature of blockchain is cyber security, enabled by authenticity, transparency, immutable ledgers and the lack of a single point of failure.
Powered by Blockchain
In collaboration with partner Universities and OP Lab, University of Vaasa will host event days (9.2-10.2) + Online Hackathon (10.2-23.2).
The event will be arranged at the Oulu at BusinessAsema (Hallituskatu 36 B) and streamed online globally. The first day of the event (in Finnish) is organized by University of Oulu, and the second day (in English) by University of Vaasa. You are welcome to participate in one or both days of the event on-site, or online. The participation is free of charge.
Welcome to register to event days at Lyyti and to Hackathon at Ultrahack.

---
Program:
Thursday 9.2 Culture and Blockchain (Organized by University of Oulu)
Presentations are in Finnish
Time
Program
Speakers
9.00
Welcoming words

Jussi Leponiemi, BusinessOulu

9.05

Keynote

Stream and Live event: BusinessAsema Oulu

Sasu Ristimäki, Founding partner, Smart Contract Company Oy and SRI Capital Oy

9.40

Panel discussion: Experiences from Finnish National Gallery NFT-art exhibition

Stream and Live event: BusinessAsema Oulu

Moderator Pasi Karppinen, University of Oulu:

– Helena Mustikainen, Sitra

– Johanna Eiramo, Finnish National Gallery

– Marja Konttinen, Decentraland

– Juho Mattila, University of Oulu / Ikunelabs

10.30

Presentation: Legal perspective to Art-NTF's Stream and Live event: BusinessAsema Oulu

Janne Kaisto, Eelis Paukku, Juhana Riekkinen, University of Lapland

11.10

Presentation: Oulu – Culture capital of Europe 2026

Stream and Live event: BusinessAsema Oulu

Henri Turunen, City of Oulu
11.30

Presentation: Powered by blockchain-project

Stream and Live event: BusinessAsema Oulu

Tommi Kauppinen, University of applied sciences Kajaani
11.45
Lunch
12.30

Workshop: Spoken word-NFT-art workshop

Live event: BusinessAsema Oulu

Ainokaisa Huusko
Friday 10.2 Blockchain technology and business (Organized by University of Vaasa)
Presentations are in English and will be streamed online
/tr>
Time
Program
Speakers
8.50
Welcoming words

Tomi Salo, University of Vaasa

9.00

Keynote: Working with blockchain- and Web3-ecosystems, Web3 gaming.

Stream

Aliaksandr "Sasha" Hudzilin, Former head of business development at NEAR and served as a founding member of the team. Near Protocol.

10.00

Presentation:  Blockchain revolution in Lithuania

Stream

Andrius Bartminas, Co-founder of Superhow Superhow.com
10.45

Presentation: Approaching blockchain adoption strategically

Stream

Aušrinė Šilenskytė, Researcher Uwasa
11.15
Lunch
12.00

Presentation: Building a Web3 World Powered by Cryptographic Truth

Stream

Andrej Rakic, developer advocate Chainlink Chain.link

Afternoon

 

13:00-13:15 Welcoming words to afternoon and introduction to Powered by Blockchain -project

13.15- 13:35 Introduction to SSI

13:35-13:40 Digital Identity Hackathon – Challenge introduction

13.45-14.30 Panel discussion: Developing Blockchain and Crypto Projects – Mission Impossible

Stream and Live event: BusinessAsema Oulu

Päivi Järvenpää, OP Lab

Tomi Salo, University of Vaasa

Harri Lainio, OP Lab

Päivi Järvenpää, OP Lab

Facilitated by OP Lab.

Jani Partanen / Joisto
Rainer Koirikivi / Interjektio
Sandun Dasanayake / Q4US
Pekka Kaipio / OP Lab

14:30-15:30
Drinks & Networking
---
The Internet was built without a way to know who and what you are connecting to. This limits what we can do with it and exposes us to growing dangers. If we do nothing, we will face rapidly proliferating episodes of theft and deception that will cumulatively erode public trust in the Internet.

Kim Cameron, Chief Architecture of Identity, Microsoft
Hackathon: Digital identity hack
In collaboration with OP lab, powered by blockchain-project and Ultrahack
Decentralized finance allows for the creation of financial products and services that are transparent, open, and accessible to anyone on the internet. Now, these services are used outside the financial institutions for several reasons. One of the key reasons is the lack of verifiable identity in transactions. Identity information is crucial for the compliance of business transactions. The emergence of self-sovereign identity technologies opens new opportunities for decentralized identity verification with verifiable credentials.

More information and registration at Ultrahack website: Digital Identity Hack
Welcome!
---
This event is part of Powered by blockchain-project in collaboration with University of Oulu, University of Lapland and Kajaani University of Applied sciences. Project is funded by European Union and European Social Fund. More information about the project can be found from: Tehoa lohkoketjuista -koulutushanke | Vaasan yliopisto (uwasa.fi)